Hello all,
This week we got another great horror movie review for our Holidays of Horrors celebration. This is our final review for Holiday of horrors since the holidays are only days away! Now this is also our final newsletter of 2009,like we said on last weeks newsletter that we are taking the week off after Christmas due to all the holidays with family's and friends.
So our final review for the year is.... District 9.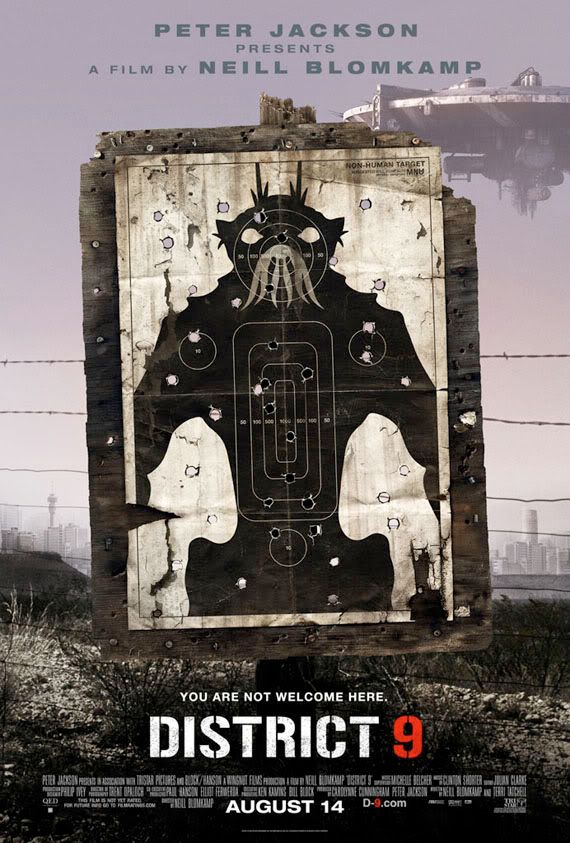 Now before we start the review,We know that District 9 is not a horror movie but it is a SCFI movie and it had some horror related scenes.
District 9 was a kick ass movie,It is one of my favorite films for 2009! It was like no other movie you will ever see for this year and for me in my entire life! Now this movie gets a little slow in the beginning but once the action starts it gets better and better. One of the things I really enjoyed was how graphic the aliens look. They looked so life like. Now if you never herd of this movie this summer,well I guess you don't own a T.V at all because this movie was very well advertised. Now if your not into the ScFi type of movies you will probably not enjoy this movie. But I am not the biggest Scfi fan ether and I loved this movie,but it all depends on your liking. District 9 has a lot of high action type of scenes that keep you sitting on the edge of your seats from the beginning to the end. But to me it was kinda hard to follow at times but its has a pretty easy plot so if you do get confused you can still follow the movie. District 9 is one of my favorite Scfi movies I have ever seen and I think Director Peter Jackson did a hell of a job directing it one of his best films to me. So if you want a movie that will make you sit on the edge of your seats then go see and buy District 9!
Our official rating for District 9 is 5 out of 6 skulls!!
We hoped you enjoyed our Final review of the year and we hoped you enjoyed all the reviews we did for Holidays of Horrors Celebration.
We also want to thank you all the members and all the readers,This year was by far the best year we have ever had since the club has began 3 years ago! Also we are now 200 members in the club and we hope by next year we will go to 300 members! So thank to everyone.
We also like to thank our proud sponsor of the club
Channel 66.6 Haunted Radio
for helping out with our website trough out the year!
Now we are going to have some changes for 2010 in the club. That are going to improve the club a lot. So we hope you keep reading our newsletters in 2010.
So we hope everyone has a very Merry Christmas and a Happy New Year!!
We will See you in 2010!
Reminder to see all our horror movie reviews and haunted house reviews go to our official site: http://mchc60.50webs.com
Thanks for reading!